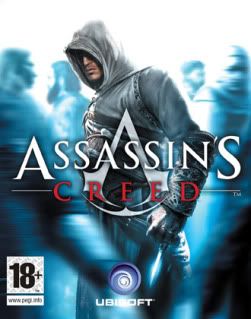 Assassin's Creed
I've been sitting on this one for a while, I have to get back into writing regularly, but I'm not quite there yet. Anyway,
I've never reviewed a game before, so I'm not quite sure what to take into account, but I fucking loved this game.
It threw me a pretty big modern-day science fiction curveball in the first five minutes, and I almost thought I had the
wrong game in the case, but it became apparent that this game is not actually based during the crusades, as much as it looks like it.
You play as an assassin who, after being disgraced, are stripped of your ultimate badass merit badge by your master, and have to prove yourself once again, but taking out nine high profile targets in nearby cities. Once inside a city, you have to complete a certain number of side-quests before the actual assassination mission is available. These missions include eavesdropping on conversations, pickpocketing targets for valuable documents, beating up informants(and killing them), etc. etc. A lot of people complained about the repetetive nature of the missions, as there are only five or six that are repeated on every quest, but it didn't bother me. You still get to run away from groups of enemies, fight 10+ guards at once, scale buildings, jump across rooftops, and my very favorite, sneak up on guards and push them off rooftops. I would purposely attract the attention of groups of guards, have them chase me up a ladder, and proceed to push the
m all over the edge to their deaths. There's not much better than looking down from atop a building and seeing a pile of dead guards.
The one repetetive aspect that did get on my nerves was the NPC dialogue. After hearing the same homeless woman run through the same six lines of dialogue begging me for money like four times during one mission, I wanted to just put her out of my misery. But that would attract the attention of the guards.
Oh, and the drunk guys that wander around and assault you. If a drunk dude pushes you into a guard, it alerts him and him and his guard buddies will chase you around the city, sometimes veering you way off course from your destination. Thanks, asshole.
As the story unfolds(very slowly) you get to see the bigger picture, but it's not really until the end of the game that you truly understand what was going on. The story could have been more fleshed out, as you only find out cryptic tidbits each time you assassinate a targ
et. Each mission is basically "Go and kill this asshole." But it's not until the end of the game until you find out why the hell you were doing it. And lo and behold, it's not why you thought you were.
The gameplay is fantastic, and I can only see the sequel, out in November, being better. The developers pretty much said that they're listening to the criticisms and working on fixing the things people complained about. Way to actually listen to player feedback guys, I wish other studios would do the same. (cough....Bungie...)

Out of a possible 5 droids: